Annual Business Forum
The South Gloucestershire Business Forum was established in 2010 to bring together business networks to share ideas, experiences, challenges and ways of working to help grow local networks and businesses.
The 2018 event was a huge success, attracting over 100 SMEs. Speakers consisted of local business owners and local business networks, providing the audience with an insight into the challenges they've faced in the last year and opportunities for the new year.
The SGBF has evolved since then and now includes a broad spectrum of business leaders from across South Gloucestershire, many of whom attended this year's annual breakfast. The SGBF started life with a district/high street retail focus but now includes businesses located in industrial and office environments. The forum brings together SMEs, Sole Traders and some large employers.
South Gloucestershire is a dynamic economic area with around 50 geographic clusters of commercial activity in the East and North fringes of Bristol and in more rural areas as well as in towns such as Yate and Thornbury. The SGBF aims to make it easier for businesses across these sites and across industries to do business with each other, helping to strengthen the economy by retaining talent and wealth.
SGBF is a channel to enable relevant local, regional and national economic information to be disseminated to a great many businesses across the area and to allow businesses the opportunity to respond to consultations. This year, the forum also invited prospective investors from outside the area to come and find out why South Gloucestershire is such a great place to do business. Local businesses were also encouraged to get involved with the Economy & Skills Partnership.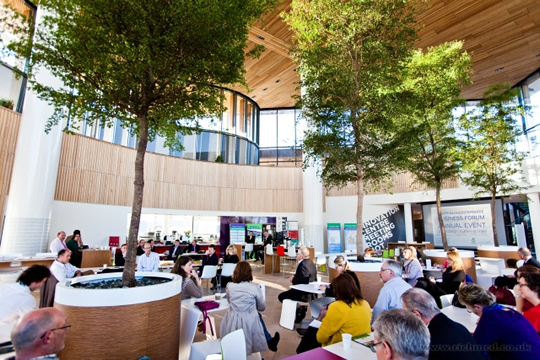 ---
Locate to Avonmouth Severnside
With a strategic location and immense development area, Avonmouth Severnside is a prime location for businesses thinking big and operating nationally or internationally.
Locate to Filton
A world-class area rich in aerospace technology, manufacturing and engineering. Thanks to unlocked development land, invest in your business on a reputation of excellence.
Locate to Emersons Green
An excellent new enterprise area that provides the environment, space, flexibility and support for science, research and innovation businesses to locate, flourish, grow.