Connected & Autonomous Vehicles
CAPRI
An AECOM-led consortium has secured more than £4.2 million of funding from Innovate UK and the Centre for Connected & Autonomous Vehicles (CCAV) to deliver a pilot scheme that could pave the way for the use of connected and autonomous vehicles to move people around airports, hospitals, business parks, shopping and tourist centres. The pilot project includes the design, development and testing of new autonomous and connected pods on-demand (PODs), culminating in on-road public trials at London's Queen Elizabeth Olympic Park. Visit the CAPRI website: www.caprimobility.com
Comprising 20 partnering organisations, the AECOM-led CAPRI consortium brings together academic institutions, businesses, SMEs and public sector authorities with a range of skills, knowledge and needs in the connected and autonomous vehicles (CAVs) arena. The project will include the development of the next generation of PODs, as well as the systems and technologies that will allow the vehicles to navigate safely and seamlessly in both pedestrian and road environments.
The consortium will also look at how the network can harness data to enable location, positioning and on-demand services. It is anticipated that evidence collected through the pilot will provide sufficient detail to enable and support a new vehicle classification for the PODs.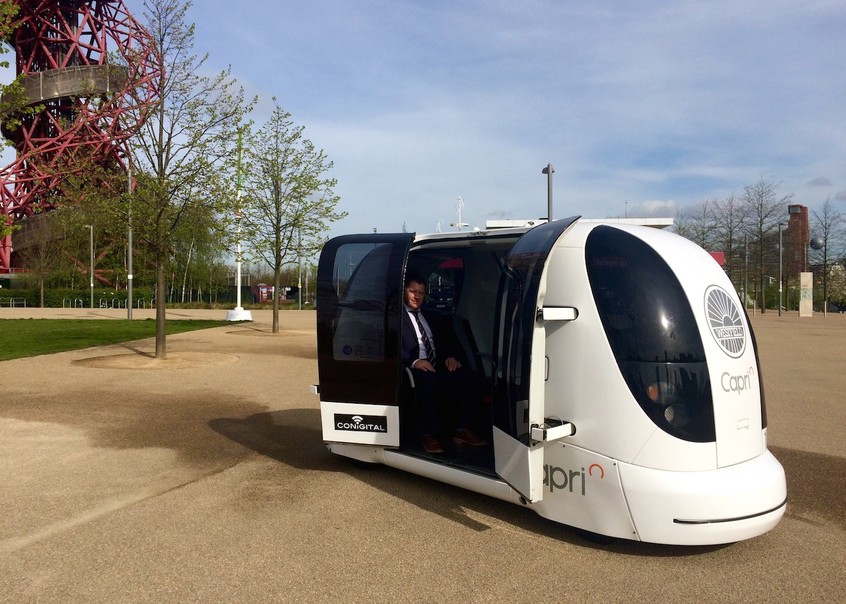 Secretary of State for the Department of Business, Energy and Industrial Strategy, Greg Clark, said:
"The race for developing connected and autonomous vehicles is accelerating and as a Government we are determined to build on our strengths and ensure the UK is at the forefront of this revolution.
"We have an excellent record in innovation in the UK and through our Industrial Strategy, we will build on our strengths so the UK auto sector remains world-leading.  That is why we have announced support today for CAPRI as schemes like these will be key to turning research and development into anchoring future production."
Lee Street, Director & Head of Technology Services – Europe, AECOM, said: "Connected and autonomous mobility services could potentially be used across a wide range of markets from airports and hospitals to business parks, shopping and tourist centres so there are clear economic and service benefits to this pilot. Our CAPRI consortium brings together academic and business partners, and will help strengthen the UK's position as a world-leader in the development of CAVs."
The project includes four trials, with the first on private land at Filton Airfield near Bristol where consortium member YTL is developing a major new community. The aim of this trial will be to test and validate the performance of the new generation PODs. The second trial will test a public service in a shopping centre car park to assess performance in busy pedestrian areas. The final two trials will be at the Queen Elizabeth Olympic Park, a large and diverse estate that includes retail, recreation, residential and business centres. The first of these trials will test a public on-demand mobility service in pedestrian areas, with the PODs identifying and navigating the best routes. The final public trial will test the PODs on a network of roads around the park, with the service interacting with traffic control systems.
An important aspect of the scheme will be safety and security. For the first time, the project will apply accidentology analysis to PODs to identify potential causes of accidents that will require testing and evaluation in the real-world, while using state-of-the-art techniques to simulate other scenarios, therefore reducing the need for real-world testing. The consortium will also undertake a system-wide cyber-physical security analysis to identify how to protect the POD systems from being compromised.
The CAPRI consortium was awarded the funding as part of a CCAV and Innovate UK competition to invest £35 million in industry-led research and development projects on CAVs. The aim of the competition was to find projects that would deliver technical solutions for CAVs that provide real-world benefits to users and where the commercial benefit is clear.
---
VENTURER
Transport Minister, Claire Perry and Business Secretary, Vince Cable launched the VENTURER consortium's driverless car trial in 2015, giving the project the green light to test autonomous vehicles in the real world. Visit the VENTURER website: http://www.venturer-cars.com/
The VENTURER consortium will trial autonomous vehicles in the Bristol and South Gloucestershire council areas to explore the feasibility of driverless cars in the UK. The project will investigate the legal and insurance aspects of driverless cars and explore how the public react to such vehicles.

The Venturer Simulator at Bristol Robotics Laboratory, University of the West of England
Lee Woodcock, VENTURER project lead and technology director for Atkins' Highways & Transportation business said: "This is an exciting time for the UK transport industry, driverless vehicles will bring about many benefits including reduced congestion, safer roads and access to mobility. This is new territory so over the next three years, the VENTURER consortium will look at what driverless vehicles could mean from a legal and insurance perspective as well as how these vehicles could impact on people's behaviour and how the public might accept this new technology."
Transport Minister Claire Perry said:
"Driverless cars are the future. I want the UK to be open-minded and embrace a technology that could transform our roads and open up a brand new route for global investment.
"I want the public to be comfortable that proper safeguards are in place and the trials will go a long way in helping us better understand the full implications of this exciting development."
The VENTURER trial will run for 36 months. Testing of the consortium's autonomous vehicle, the BAE Systems Wildcat on private and public roads is due to begin in early 2016.
The VENTURER consortium is made up of a range of organisations from across different sectors:
Atkins: lead partner, providing project co-ordination, delivery and intelligent mobility expertise

AXA UK: insurance and legal expertise

Bristol City Council and South Gloucestershire Council: access to public roads and local road network intelligence

First Bus: as part of the work being done around driver assistance technologies, First will provide a bus as a means of collecting data

Fusion Processing: advanced sensor systems

Williams Advanced Engineering: driving simulator expertise

Centre for Transport and Society, University of the West of England: research on public expectations, acceptance and response

University of Bristol: car to infrastructure communications

Bristol Robotics Lab, University of the West of England & University of Bristol: hosting the trial centre and providing systems integration and decision-making algorithms
The VENTURER trial is one of three projects being funded by Innovate UK to investigate how driverless vehicles could fit in with every-day life. The GATEway project will explore new forms of automated technology in Greenwich while the UK Autodrive project is being run in Milton Keynes and Coventry.
South Gloucestershire Council Leader Matthew Riddle said:
"We pride ourselves on being one of the country's leading centres for innovation with many advanced engineering and high tech industries such as robotics having a base in South Gloucestershire. This pioneering project will not only keep the UK at the forefront of driverless car technology, it will also help to ignite a passion for science and technology among school children in South Gloucestershire and around the globe."
Professor Graham Parkhurst from UWE Bristol
"Professor Graham Parkhurst from UWE Bristol is excited by the prospect of leading one of the first major investigations into how driverless vehicles might fit into and shape future society. There are many implications for how we travel, particularly for those unable to drive themselves, how we plan our cities, organise our streets and manage traffic."
"This is an exciting initiative that we're proud to be part of and reflects our innovative approach to improving our business."
Innovate UK is the new name for the Technology Strategy Board – the UK's innovation agency. Taking a new idea to market is a challenge. Innovate UK funds, supports and connects innovative businesses through a unique mix of people and programmes to accelerate sustainable economic growth.
---
FLOURISH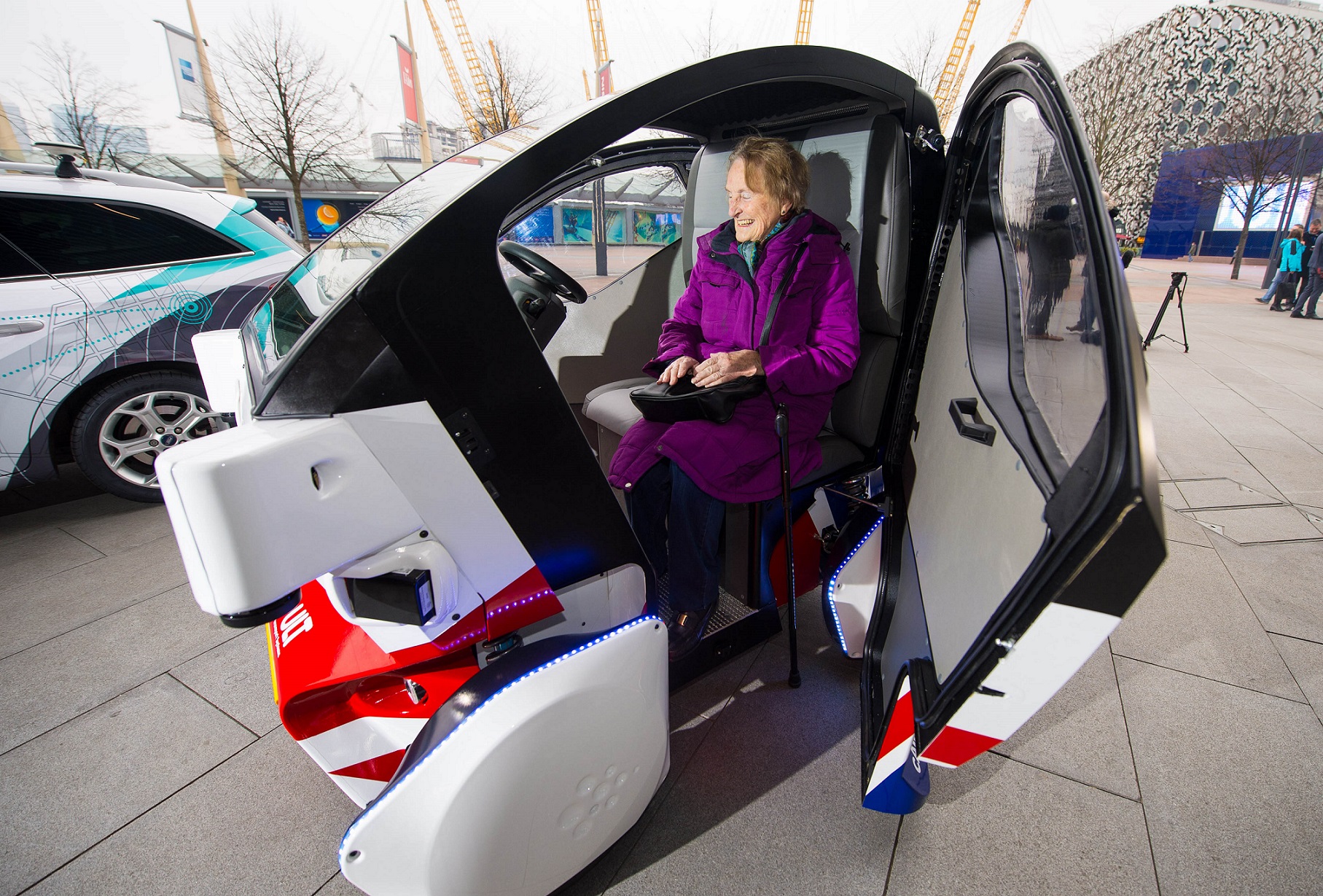 The government has selected the FLOURISH consortium as a winner of its multi-million pound research grant to fuel development in user-centric autonomous vehicle technology and connected transport systems. The new programme, co-funded by the UK's innovation agency – Innovate UK, will focus on the core themes of connectivity, autonomy and customer interaction.
The three year project starting in 2016, worth £5.5 million, seeks to develop products and services that maximise the benefits of Connected and Autonomous vehicles (CAVs) for users and transport authorities. By adopting a user-centred approach, FLOURISH will achieve a better understanding of consumer demands and expectations, including the implications and challenges of an ageing society: http://flourishmobility.com/
Leader of South Gloucestershire Council Cllr Matthew Riddle said:
"This project will help us to develop an understanding of user needs and expectations for Connected and Autonomous Vehicles (CAV). Our consortium of diverse partner organisations gives us the combined knowledge, experience and skillsets to deliver this ambitious project, and our findings will hopefully enable us to maximise the mobility potential that this new form of transportation promises.
"FLOURISH will build on VENTURER, the current driverless car project the council is partnering on, and will further encourage investment in our region and help position the West of England as the prime location for CAV research, development and testing."
Importantly, FLOURISH will address vulnerabilities in the technology powering CAVs, with a focus on the critical areas of cyber security and wireless communications. The consortium will aim to develop tools that enable vehicle manufacturers and transport authorities to create a safe and secure CAV network.
Roland Meister, Head of Transport for Innovate UK said:
"We're excited by the Flourish consortium's project and in particular, its focus on addressing cyber security vulnerabilities and the implications of connected and autonomous vehicle technology for an ageing population.
"This particular funding programme builds on previous government R&D investment into driverless cars and is a key part of a strategy to ensure that UK-based companies establish market-leading solutions, helping to build a strong supply chain for connected and autonomous vehicle technology and increase UK economic growth."
The project will bring together industry and academic experts in the field of autonomous and connected systems, cyber security, data innovation and social research, and will further advance the South West region as an independent centre for the development and testing of CAVs.
RoboPilot
The RoboPilot project will develop & demonstrate level 4 autonomous driving functionality. It brings advanced technology developed by ARRIVAL – as technical partner for the Roborace autonomous race series – to the traditionally conservative commercial market.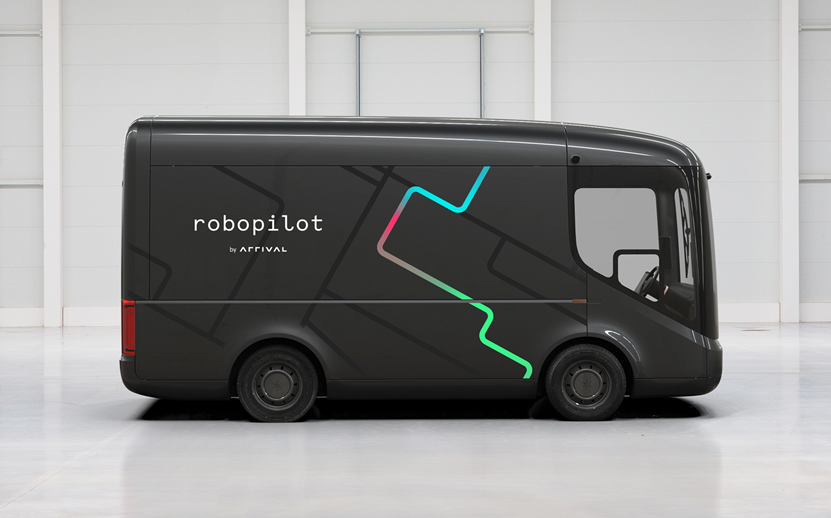 The RoboPilot project will use the considerable expertise of the partners to deliver a full assessment of vehicle safety, cyber security, evaluation and hardening, and an innovative approach to validation of the autonomous decision-making algorithms.
Navigating complex traffic scenarios, the autonomous driving will take place over a 10-mile route on mixed public roads in South Gloucestershire, and include driverless parking/manoeuvering in UPS depots.
ARRIVAL is a technology company making vehicles the way they should be – smart and electric.
We believe that everyone benefits from a world without combustion engine vehicles. We are currently focused on commercial vehicles, with a van, bus and taxi in development, and plans for more.
We are working with some of the world's leading businesses and governments, and are currently running a series of trials with companies like the Royal Mail. We also supply the electrical components to the first fully electric and driverless racing series, Roborace, which is our sister company. www.arrival.com
---
Locate to Avonmouth Severnside
With a strategic location and immense development area, Avonmouth Severnside is a prime location for businesses thinking big and operating nationally or internationally.
Locate to Filton
A world-class area rich in aerospace technology, manufacturing and engineering. Thanks to unlocked development land, invest in your business on a reputation of excellence.
Locate to Emersons Green
An excellent new enterprise area that provides the environment, space, flexibility and support for science, research and innovation businesses to locate, flourish, grow.