South Gloucestershire: Open for Innovation
Ideal Location
South Gloucestershire is in the West of England between Gloucester and Bristol, the Severn Estuary and the Cotswolds. The West of England is the most strategically significant sub-region in the South West and one of the key centres for future growth. South Gloucestershire's location and its proximity to the City of Bristol present a number of cross boundary opportunities and challenges which are dealt with by working in partnership with the neighbouring authorities of Bristol, Bath and North East Somerset and North Somerset. With these local authorities and the Local Enterprise Partnership, the West of England has submitted an ambitious Devolution proposal to government (Autumn 2015). Devolution presents a number of emerging opportunities for increasing self-reliance and for improving our delivery of housing, transport infrastructure, access to employment and skills development for our residents. The devolution agenda is likely to evolve further through the period of this strategy.
South Gloucestershire is a mix of a long established urban communities, market towns, small villages and substantial new development. Characterised by very differing communities with individual needs and aspirations, the diversity of its landscapes and neighbourhoods contribute to a nationally recognized, high quality of life.
Our Population
The population of South Gloucestershire is 273,600 (ONS, 2016 mid-year estimate). This accounts for 5% of the population of the South West. 62% of the population live in built up areas immediately adjoining Bristol. 18% live in the towns of Yate, Chipping Sodbury and Thornbury and the remaining 20% live in the more rural areas of South Gloucestershire.
Data from the 2011 Census shows that population growth in South Gloucestershire has slowed considerably over the past decade. Between 2001 and 2011 the population increased by approximately (7%) compared to an 11.5% increase between 1991 and 2001. More recent estimates from the Office for National Statistics in 2015 show that between 2013 and 2014, there was a 0.9% increase (+2,400) people in the district. The population increase over the last year can be attributed to both natural change (i.e. births minus deaths) of 1,200 people and 'net migration and other changes' of 1,300 people. Net international migration accounted for +1,000 residents, whilst 'net internal migration' accounted for -200 (meaning that 200 more people moved out of South Gloucestershire to other areas in England than moved into the district from other areas in England).
The broad age structure of the population is very similar to the national average, with 18.6% aged 0-15 years; 63.5% aged 16-64 years; and 17.9% aged 65 years and over.
However, in comparison to the national average, South Gloucestershire has:
A lower proportion of the population in the 20-39 age group (1.9% below the national average)
A higher proportion of the population in both the 40-54 and 15-19 age groups (1.4% and 0.3% above the national average respectively).
Economic Headlines
There are approximately 10,500 businesses in South Gloucestershire of which, just over half pay business rates (i.e. those operating from a premise designated as commercial). Just over 2,200 businesses in South Gloucestershire are classified as retail and just over 100 major employers (those employing more than 100 people). The top 5 of these employ around 24,000 people between them. As well as a dozen or so retail centres, there are nearly 50 non-retail business hubs in South Gloucestershire, made up primarily of office parks and industrial estates.
South Gloucestershire has a diverse economy ranging from rural and home grown small and medium sized enterprises to world leading companies in key high growth sectors vital to continued national economic growth. These include aerospace and advanced engineering, defence, micro-electronics and silicon chip design. We host the Bristol and Bath Science Park, a world class environment for businesses in science and advanced technology, which incorporates the National Composite Centre, the national leader on research and design. We are also a centre of excellence for green and environmental technologies, animation and IT solutions. South Gloucestershire is home to the University of the West of England, which plays a key part in supporting high standards of education and training for these cutting edge industries. The Mall at Cribbs Causeway, another major employer, provides extensive retail and commercial services. Both of these attract investment and help create a vibrant economic environment that benefits both businesses and communities.
Working with partners across the West of England and the Local Enterprise Partnership (LEP), we continue to be part of successful collaborative partnerships delivering infrastructure and economic development. We support the LEP's ambitions to deliver tens of thousands of new jobs into the area by 2030 primarily across our three Enterprise Areas, attract substantial private sector investment over the next five years and create a well-motivated workforce with the right skills to meet business need and to build the foundations for a long term, sustainable economy for all.
It is important that high level carbon emissions are reduced and the local economy benefits from opportunities associated with the transition to a low carbon economy. Local production and consumption and services close to where people live are an important part of this. The area continues to develop and grow but pockets of social and economic deprivation still exist. Helping adults back into work as well as raising young peoples' aspirations through top class educational and vocational experiences will improve personal achievement, social and economic well-being and reduce the gap between prosperity and deprivation. Excellent educational provision underpins a healthy economy which is the bedrock of future success.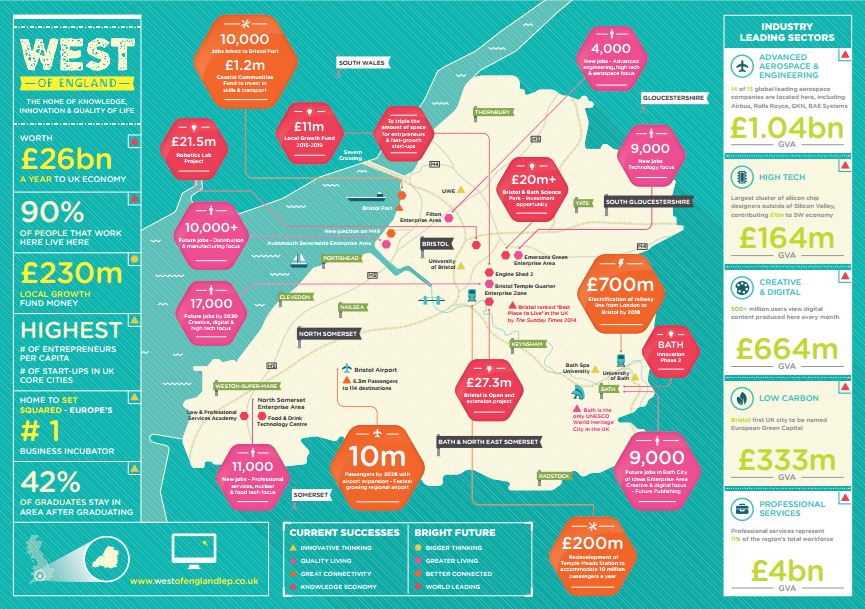 Download Resources
West of England Economic Growth PDF
Expand to Bristol and Bath PDF
Bristol and Bath Development and Investment Hotspots PDF
---
Locate to Avonmouth Severnside
With a strategic location and immense development area, Avonmouth Severnside is a prime location for businesses thinking big and operating nationally or internationally.
Locate to Filton
A world-class area rich in aerospace technology, manufacturing and engineering. Thanks to unlocked development land, invest in your business on a reputation of excellence.
Locate to Emersons Green
An excellent new enterprise area that provides the environment, space, flexibility and support for science, research and innovation businesses to locate, flourish, grow.